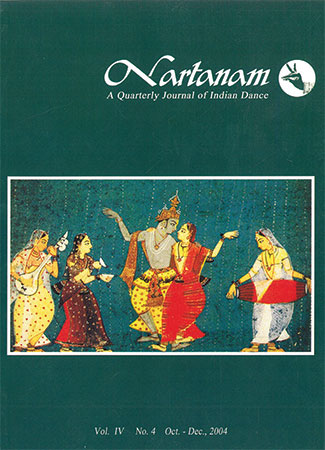 Nartanam - Vol IV No. 4
A Quarterly Journal of Indian Dance - Volume IV - Number 4 - October to December 2004
Nartanam completes its fourth year of publication with this issue! We are really surprised that we could continue this long, for the dance scenario in India doesn't seem to warrant a serious Journal like Nartanam.
Look at the SCENARIO, or at the several scenarios :
We have festivals and festivals and festivals! Right from the top most dancer in the field down to the arangetrams, we have so much fanfare. Everything is celebratory as dance should be!
We have festivals in the names of all the celebrated, bygone Masters without uttering a word of why they were celebrated, Masters! Are we not offering a garland and an incense stick?