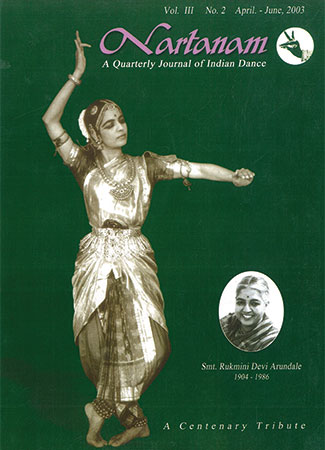 Nartanam - Vol III No. 2
A Quarterly Journal of Indian Dance - Volume III - Number 2 - April to June 2003 (A Centenary Tribute)
Rukmini Devi Arundale (1904-1986), whose Birth Centenary is being celebrated for an year starting from March 2003 to Feb. 2004, is a celebrity of a rare breed and a multi-faceted personality. The celebrations give the dancing community an opportunity to pay tributes to that great visionary who endeavored to approach our age-old traditional institutions with a daringly new and modern sensibility. Her life and her work are a perfect symbol of this happy synthesis.
Rukmini Devi's wedding with a 'foreigner' (Dr. Arundale was more Indian then many Indians), her bold and self-willed initiation into learning the prohibitive art (especially to the Brahmin girls) of Bharata Natyam, and institutionalizing dance and music education, by themselves, are revolutionary in nature, especially for the age in which she lived and practiced the art.
What Rukmini Devi brought to the performance scenario of Bharata Natyam is much more spectacular and trend setting. She is a pioneer in creating an environment, both mental and physical, in which stage presentations evoke visually beautiful and aesthetically pleasing experiences.