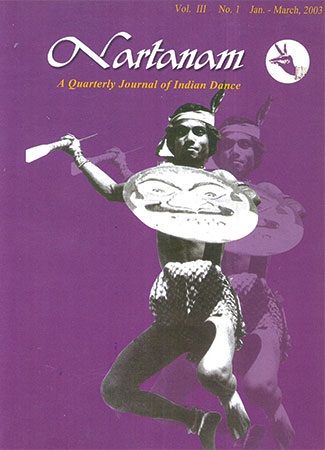 Nartanam - Vol III No. 1
A Quarterly Journal of Indian Dance - Volume III - Number 1 - January to March 2003
For an year, starting from January 2, 2003 Kalakshetra at Chennai and the whole Dance World of India celebrate the Centenary of Smt. Rukmini Devi, a great theosophist, an exceptionally imaginative dancer, a choreographer of trendsetting dance-dramas, a parliamentarian and above all, a humanist to the core. We join the Indian Dance Community in paying our respectful pranams to that great spirit who single-handedly groomed Kalakshetra to be an institution that reflects her thoughts and ideals. It is our fortune that we are born as contemporaries of all those great souls of Indian Renaissance whose life and work blazed a new trail!
Nartanam is two years and eight issues old!
That we have entered into the third year of bringing out Nartanam, successfully completing two years of existence, is a testimony to the chivalrous spirit of the members of the Kuchipudi Kalakendra, Mumbai, who did not look back after their bold and imaginative decision to launch a Journal of this kind.