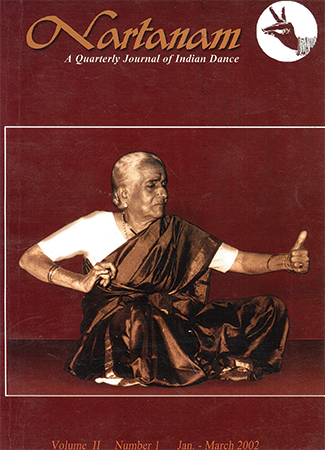 Nartanam - Vol II No. 1
A Quarterly Journal of Indian Dance - Volume II - Number 1 - January to March 2002
The first anniversary is a memorable event. Like a tottering baby trying to find its ground, we have also been tying to find our moorings.
Along with our expert Advisers, our resourceful Resource Persons and our able editors, we celebrate the event, not because we are proud that we achieved something (though we really did, to a small measure), but because we survived, and survived well - artistically, though not financially.
Our well-wishers always doubted that Nartanam cannot survive. Because it has no vast reserves of money. Also because Indian dance scenario shows that it has performers on the stage, but none on the page; i.e., we have no 'danceology', as we have, say, 'musicology'. To some extent this is true. We have a small number of dependable dance critics and reviewers. But, thanks to the backing of these few, we survived!